CM Punk
Jul 19, 2011 16:07:28 GMT -5
Post by CM Punk on Jul 19, 2011 16:07:28 GMT -5
Name:
Age:
Efed Experience:
GFX Experience:
Staff Experience:
How did you find us:
Wrestler Information: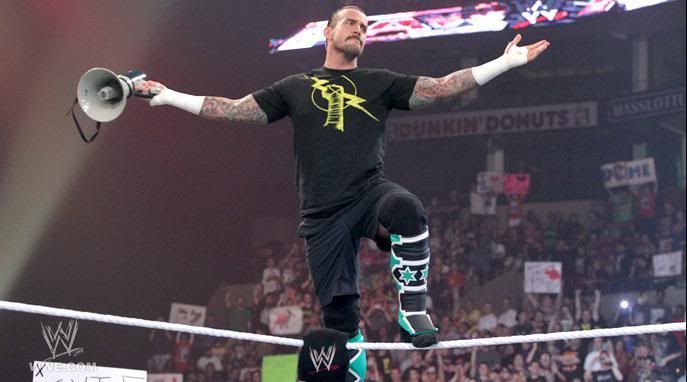 Name: CM Punk
Nickname(s):
"The Straight-Edge Savior"
"The Second City Savior"
Real Name: Phil Brooks
Weight: 222 lbs
Height: 6'1
Hometown: Chicago, Illinois
Alignment: Tweener/ like before he left
Entrance Music: This Fire Burns- Killswitch Engage
Wrestler's Style: Well-Rounded
Finishing Move(s):
Anaconda Vice (Arm triangle choke)
GTS – Go to Sleep (Fireman's carry dropped into a knee strike to the face)
Signature Move(s):
Arm wrench followed by stepping a leg over the wrenched arm and performing a mule kick with the leg below the opponent's face
Bulldog
Diving crossbody
Double underhook backbreaker
Jumping hammerlock twisted into a short-range lariat
Repeated elbow strikes to an opponent's chest
Rope hung arm trap can opener
Roundhouse kick
Slingshot somersault senton
Snap scoop powerslam
Springboard clothesline
Step-up enzuigiri
Step-up high knee to a cornered opponent
Suicide dive
Swinging neckbreaker
Tilt-a-whirl backbreaker
Favorite Weapon: His feet
Favorite Match Type:Submission
not my best....ok it's trash, but had this before I retired...But can do better
Sample Roleplay:
The Miz walked around TNA and he then noticed a Blonde attractive woman with some uy, who The Miz didn't even know....that guy was Alex Shelley. So The Miz walked up to the both and stood between them. He noticed Angelina checkin him out so The Miz gave a smirk as he started to speak
The Miz
Really Angelina?....Really I've only been here for a few day's and already you're talkin to this guy? Wasn't it you of all people say to me "Mike we need you here, we need a Age of Awesomeness, Now you're sen backstage with a guy I don't know the name of?
[color=blueThe Miz then Stood beside Angelina as he took a look at Shelley Miz was confident that Angelina wanted a man with some class then a man who plays pranks so Miz said[/color]
The Miz
Also you Really think she happened to be placed on TNA because she wanted to be with you? Well you're mistaken she came to TNA when I signed, so I won't have lil slut's like Kelly Kelly and Layla trying to be with me so that they can become a someone again. I just wanna this Angelina if you had to pick over a 100 hundreds or me to be with....Well let's just say you pick me every time. I mean look at you...you look like a cheap debut Miz all flash and no skill.
Miz smiled as he knew he was right, he seen one tape of Alex wrestling, and all Miz thought was how Alex copied his look when Miz was teaming with Morrison. But beside's that Miz didn't want Angelina to be talkig with a loser. He wanted Angelina to be with him so Miz placed his arm around Angelina's shoulder as he looked at her then at Shelley as he waited for a response.
TBCB: AL or AS////Angelina ok'd me to respond